"How to protect your investment with a pole barn garage"
Versatile benefits of a pole barn garage
Useful applications for a pole barn garage are limited almost only by one's imagination with this type of building style. Visionary customers throughout Lancaster County, PA and all the mid-Atlantic states have successfully incorporated their pole barn garage plans not only for car or RV storage, but much more. Garage workshops with extra second-floor storage space, hobby garages, and even automotive service shops affirm their usefulness and practical flexibility.
| | |
| --- | --- |
| | Side Note: We unashamedly confess having a special soft spot for car enthusiasts! We take pride in providing the benefits of pole buildings for a wide variety of uses because it's our passion and area of expertise. But when it comes to car and truck aficionados - whether collectors, restorers, detailers, mechanics, or other specialists - we definitely count it a privilege working with them to provide top-notch, yet economically sound, protection for their special investments and livelihood! |
Managing building integrity from the ground up
Taking the proper measures to ensure the level of quality you expect and deserve actually begins below the posts themselves in the very ground your pole barn garage will sit on. Then continues upward throughout the rest of the structure.
The right footings
Correctly sizing the post holes and using the right amount of concrete below each post is a crucial part of the process. Properly backfilling the posts for enhancing their stability is also a procedure that must be done right for long-term durability.
Taking shortcuts with these steps - although not visible from the standpoint of appearance - compromises quality and integrity of the entire structure. No matter how beautiful the finished result looks.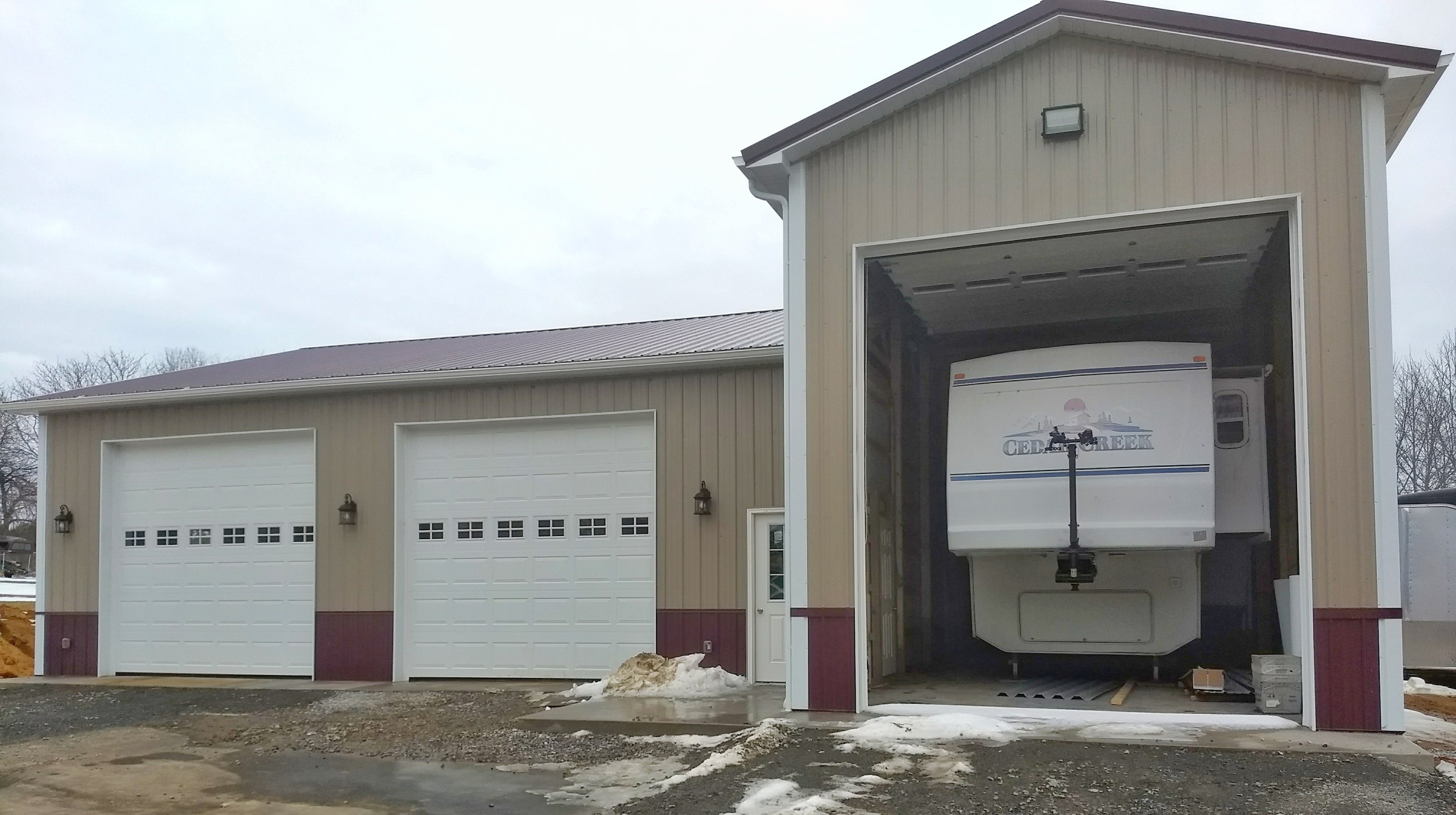 Above and beyond the call of duty
Installing your footings correctly to meet all IRC building code requirements and pass thorough building inspections is only the beginning. We don't take any shortcuts when it comes to properly fastening the individual building materials.
Anchoring trusses, attaching beams and headers, and even putting on the finishing materials receive an extra special measure of care. We don't believe in overkill which ends up costing the customer unnecessarily. But we do believe in using a few extra nails or fasteners (depending on the kind of material) per connection for an extra measure of value and safety.
It's not because we doubt the validity of the IRC codes, but we do it to protect our customers by making sure we've done everything in our power to go the extra mile ensuring a long-lasting quality for their investment.
Maximizing the visual appeal
Visually appeal abound in today's choices of pole barn garage finishes. Colorful selections of wall and roof materials are available in a wide spectrum. That includes both vinyl and metal options for walls, as well as metal or shingles for roofing.
Worth mentioning
If you like a more traditional look but want to capitalize on the typical cost effectiveness of a post-frame structure - you're in luck. Metal siding is not necessary. You can take advantage of the vast array of vinyl siding and trim combinations along with everything that shingle roofs can offer to suit your taste!